Behavioral Forensic Group
The Hartman Firm is affiliated with a corporate governance consulting group including Dr. Sri Ramamoorti, Dr. Daven Morrison, M.D., Dr. Joe Koletar and Jack Bigelow. You can read more about this consulting group and blogs on the topic of Behavioral Forensics at behavioralforensicsgroup.com.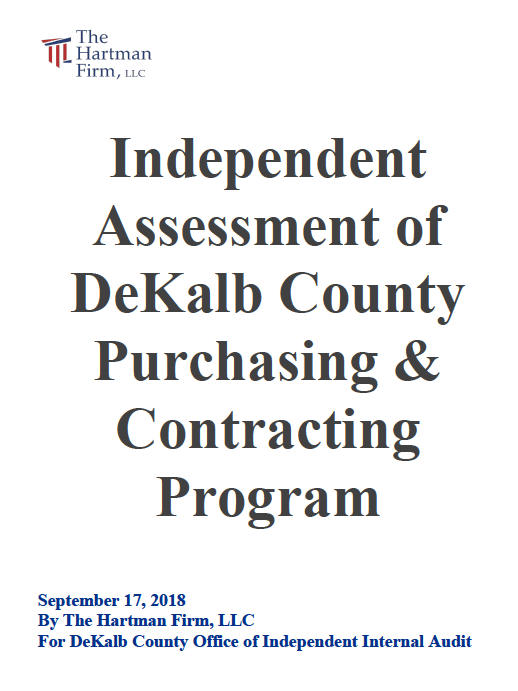 "The Hartman Report"
The Hartman Firm, LLC conducted an assessment of the DeKalb County Purchasing & Contracting Program on behalf of DeKalb's Office of Internal Independent Audit (OIIA) and is also known as "The Hartman Report." The report can also found on the OIIA's webpage and provides insight into DeKalb's procurement program.
Vic Hartman Discusses Generative Artificial Intelligence–Threats, Responses & Governance
This informative 2-hour video discusses how GenAI can be used to both commit fraud and prevent it. It is also available for continuing education credits at MY-CPE.com (Click Here)
FBI Agent (Ret.) Vic Hartman Jointly Presents with Harvin Moore, An Attorney He Arrested
Vic Hartman investigated and arrested Harvin Moore for offenses relating to the Savings & Loan crisis in the late 1980s. Harvin is out of prison and presents jointly with Vic to discuss leasons learn from both committing and investigating fraud.
Video Material: Understanding and Preventing Fraud
Vic Hartman discusses the "Why" of fraud. Why do people commit fraud. As part of this discussion he discusses the "Accidental Fraudster."
Vic Hartman furthers the discussion of "Why" people commit fraud, and "What" frauds will they commit.
Vic Hartman applies the lessons learned from the Fraud Triangle and the Fraud Tree to the Fraud Life Cycle. He discusses the life and times of a fraud matter from prevention through fraud's aftermath.